There are many users wrote mail to ask us adding a feature that recording sound from speaker. And we have to reply them one by one.
This issue is not a problem at all because SCREEN2EXE or other sound recording applications are recording 'default sound inputting channel, which for most case is microphone.
So this is an issue about how to set the 'sound inputting channel' in system. So it is not part of the software can do, but related.
First of all, you should know some basic knowledge about windows sound mixer. The Windows sound mixer which you can set in 'Control Panel' of system, include 2 pages. 1 for speaker output called settings of playing, and 2 for sound inputting called settings for recording.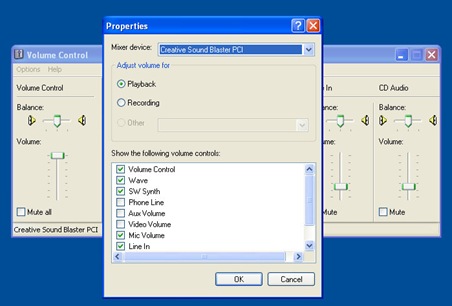 To record speaker sound, simply set input source by check it to channel 'Stereo Mixer' which means the sound sending to the speaker. On your computer, it may be other similar name, which depends on your sound card. Anyway, 'mixer' means mix sound up and sending to speaker.
But, bad news to tell you that some sound card just not support 'mixer' as inputting. That means forget it, you can not record speaker sound, change to another computer please….
Now we know how to record speaker sound, can we record speaker sound with microphone together? Sure you can! Check both speaker mixer channel and microphone channel…wait a moment, seems I CAN NOT do this?! The system doesn't allow me to check on 2 or more channels in inputting page.
You are right; the system can not record 2 channels at same time. But there is still a way to do this. Switch to 'speaker output' page, and this page allows you play sound from multiple channels at same time, (that's what mixer do). Then you can check microphone channel to make the microphone inputting played though speaker, mixed with the original speaker sound. And then record 'mixer' as sound source. Now, problem solved, you can record both of them. To be noticed, in default , microphone channel does not appear in 'speaker' page, you can set it in the property page where you switch between 'speaker' page and 'inputting' page.
A demo movie show the above steps,